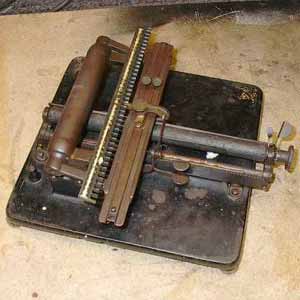 The New American 5 in 'as found' condition.

Early New American No.5
By Robert Nelson
This machine was bought by Mark Taff from a seller in Mexico.
The machine was in poor shape as you can see, missing bell and clapper along with loss of almost all of it`s original copper striped finish, paint and decoration.
First of all, I copied the bell clapper from an "International" index machine. This was made from the typebar of a Standard Folding parts machine.
A Bell of the correct diameter and height was scrounged from my old telephone parts. All pieces were cleaned and polished.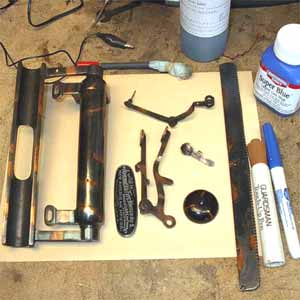 Copper highlights, blueing pen and furniture touch-up
I had ordered a small Copper Electro-Plating kit from Caswells for the project... It worked well putting the copper stripes, but they were a lot wider than I wanted, so I used a very fine dremel polishing wheel and polished off what copper i didn`t want and at the same time shaped the designs.
After I had my Copper highlights the way i wanted I worked around them with a Bluing touch-up pen to further shape them.
Then remaining areas were Blued using Cotton Swabs. After this all the pieces were polished lightly with 0000 Steel Wool. The copper was then tinted further by using a transparent lacquer Furniture Touch-Up Pen.
My touch-up pens came in light ,medium and dark,I used the medium. The name tag was painted with black laquer,then the highlights were cleaned off with my finger in a rag dipped in lacquer thinner and also with dry 0000 steel wool.
Next came the base.
A scan was made of the corner decoration and sent to Paul Robert,who then touched up and filled in all missing lines,then made decals.
The Gold and Blue stripes were mask off using 3M 1/16 vinyl masking tape.
Since the original lines were not bright gold like later machines,I picked a Wheatstraw and Desert Camouflage combination.
The blue stripe is Sea Blue Flat The Black Laquer paint was Mercury Outboard "Phantom Black"
The whole piece was then coated with several light coats of clear lacquer then wet sanded with 1500 wet or dry sandpaper,then a couple of more coats of clear, then fially rubbed out with Micro-Fine polishing compound and a finer clear coat compound.
Here is the machine all assembled.
I did not have the platen redone, for the simple fact i didn`t want to take a chance on ruining the knob or trading one cosmetic flaw for another.( however the aged platen does help tie all of the new work in to make it look more original...as opposed to brand new restored.) At first I tried painting the Index slide knob a tinted gold,it just looked too new compared to the rest of the machine, I conferred with Mark and suggest that we Blue it instead....you be the judge :)
The new Index legend was made by Herman Kerz and was supplied to me by Mr.Taff (if it was my machine i would have left the old worn legend in place) All in all to me the machine still has it`s character intact.