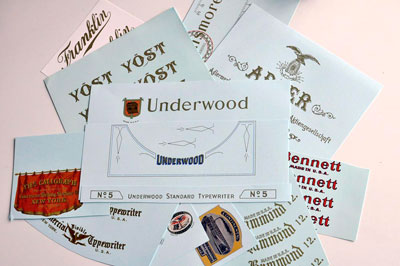 Good decals are a must on any old typewriter. They can be ornate pieces of illustration. But sometimes they wear off or are damaged in other ways.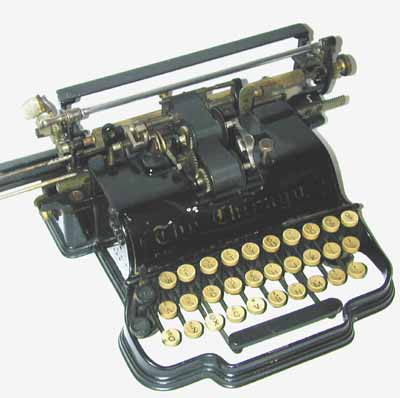 ThisChicago now has a new decal. Check the end of this page for the result.

There are three things you can do:

Find a replacement

Restore the original
3. Get a replica from the Typewriter Decal Shop.

1. Replacement parts with decals
Replacement parts can be found, but you'll see that finding parts with good decals on them will not be easy. Obviously, we'll all use the best decals on the machines in our own collections. And obviously, parts with decals are most wanted and most asked for.

2. Restoring the original
Robert Nelson provides the following method to restore gold decals on machines, using amber colored shellac. Warning: Shellac is very difficult to work with as it dries almost instantly. Shellac is a natural lacquer, secreted by an Indian tree louse (ok, you didn't ask, but this is one of those things you should know). Shellac can be obtained through specialized paint shops. The amber kind is rare. If you live where I live, you'll have to ask a friend in the United States to send you some. (Thanks, Robert!)
For more information on Shellac, check out the producer of Bullseye shellac.

Clean the part very well

Brush on several coats of shellac until you get the desired shade of gold. (Let dry between coats and use a good brush.)

Sand the piece with 600 wet sandpaper until it is smooth.

Apply several coats of spray clear lacquer

Sand again with 600 wet and, if needed, with 1000 wet

Rub with fine, white compound.

Wax

Possibly, the piece will now be so shiny, that it doesn't fit the rest of the machine anymore. In that case, polish it with clear coat polish compound to dull it a bit.
Another negative side to this approach is that the shellac will result in a haze of gold over the entire piece, when placed in direct sunlight.

3. Get a replica from the Typewriter Restoration Site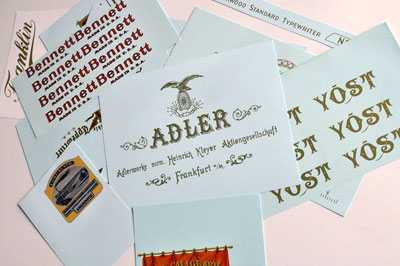 I have produced dozens of different decals in the last couple of years. A complete list is on the right side of this page.
They are all available. I have put a number of them in an Etsy sthop There are direct links to them in the list. For the rest: Just drop me a line and tell me which you need. If what you are looking for is not on the list, you can still ask. If good examples are available I can make them for you.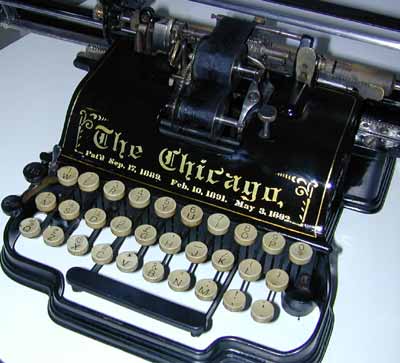 Varnish Applied Decals and Silk Screening
Bob Aubert volunteers the following on the traditional method of applying decals:
To make a decal as it was done originally, a special paper is required which has a tissue layer on a peelable back sheet. A mirror image of the decal is silk screened or printed on the tissue side. When ready to apply, the image area is sprayed with varnish. This is absorbed by the tissue paper and tends to dry quickly, but on the decal the varnish dries more slowly. When tacky, the image side is placed down on the surface where needed. After the varnish has set, the backing paper is peeled off. What's
left is the tissue layer with the decal in place beneath it. Warm
water is then used to dissolve and wash away the tissue paper. Over
spraying with clear varnish will make a decal more durable.
Of course, a silk screen can be used to apply an image directly on to a typewriter. However, this is only recommended for flat surfaces.
Printing to a curved surface requires considerable skill, experience,
and in some cases special equipment. The screen is usually coated with
a photo sensitized material, it's exposed, developed and fixed. Then a
special paste-like paint is squeegeed through the screen to lay down the
print. A multi-color image is much more complicated and not usually
applied by direct application. Ideally it should be done by making a
decal first and making the transfer as described above.


Pinstripes
For pin stripes you can use factory produced pinstripe tape. It comes in different widths and colors.
It is nicer to paint an original pin strip back onto the machine, or to restore the original stripe, like this:

Mask off the area to the side of the pin stripe using pinstripe tape or typographer's tape (used to place black lines on offset models before reproduction). Make sure the tape sticks out, so you can pull it off again. (Check www.finessepinstriping.com for all sorts of tape, brushes and paints. Nice people!)

Use gold leaf paint (the real stuff, not model paint) and apply it with a very small brush.

Pull of the tape before the paint starts to dry.

Recoat and rub and polish and wax.

For an example, Check the Molle project.

_____________________________